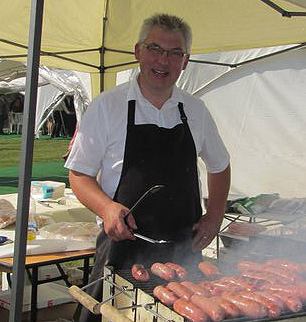 I went to a wedding in Spain about 15 years ago and the reception was outside, the weather unusually, wasn't good, it was windy and it was raining, but the atmosphere was fantastic, this was mainly to do with the fabulous food that was served, which helped create a relaxed and fun filled ambience, we didn't care about the weather, it was fun and we still ate and drank in the dry. If the Spanish can do this, I knew with my experience I could do even better!
As a master butcher with experience of sourcing and selling prime cuts of British meat and getting this from reliable, local farms – with full traceability. I believed I could use this experience and create excellent outdoor barbecues and pig roasts that were quality produced and cooked and delivered reliably and with the customer and event uttermost in mind.
So for the last 8 years this is exactly what I have done and over this time, the whole family has become involved and I have created a team of trusted employees who have your satisfaction always in mind.
Everyone who helps me in delivering your event experience has passed a hygiene certificate and have either experience in outdoor cooking or top level customer service skills. During this time we have also gained a level 5 star hygiene rating and most importantly we are all enthusiastic in delivering a 5 star experience.
We are fully insured and all our gas and electrical equipment is tested and certificated annually.
All the food is sourced by me, we only use verified, quality locally sourced produce. A Hog takes at least 8 hours to cook until the meat is at the correct temperature, the meat is then tender and succulent and the crackling crisp and crunchy.
We take all your wishes and constraints into account and I or one of my team are happy to talk through your requirements or visit your venue beforehand. We take pleasure in delivering a bespoke experience. We have hosted hog roasts and barbecues in Worcestershire, Warwickshire, Gloucestershire, and the West Midlands areas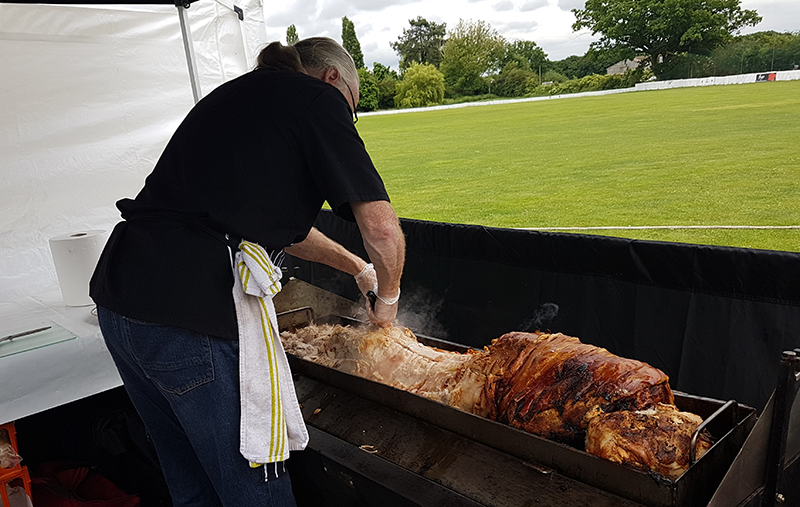 Gourmet Gorillas provided a bbq for our wedding. The food was absolutely delicious and everyone commented how amazing it was! Some COVID hurdles were thrown into the mix but nothing was too much trouble. Massive thanks to Ian, Karen and the team – amazing service! Highly recommend!
Thank you for providing such a professional and friendly service which made it a really special and memorable evening for us. The pancakes were delicious and everyone enjoyed the experience. the rear of the garden was definitely the best position. I hope you managed to get to the Blue Boar after?

I will leave a review on your Facebook page and recommend you to any of our friends who are looking for quality event catering.

Wishing you all the best for a busy and successful summer.
From the comments I've heard everyone had a lovely day, thank you so much for helping provide a memorable day for our children. Many thanks.
Thankyou for the wonderful Paella you cooked and served for us last Sunday, it was quite a spectacle and thoroughly enjoyed by all our guests, we will definitely b booking you again.
COVID had already disrupted our first wedding date, thank you for being so obliging and letting us re book, I know it must have been a pain for you to do the risk assessment to make sure we were all safe and following the guidelines, it was so much appreciated as it took all the pressure off us. The BBQ was amazing despite the circumstances, we will definitely be booking you again as soon as we find an excuse for a party!