I don't know if you have witnessed the spectacle of paella being cooked for an appreciative crowd in Spain? It is something to behold, the chef adds Mediterranean vegetables and spices to special paella rice along with chicken and a variety of seafood and this is all cooked in an enormous paella dish, the aroma and the display is truly mouth-watering.
We have cooked with chefs in Spain and Gourmet Gorillas can offer an authentic paella as well as catering for UK tastes in that if you don't like fish or meat, we can adapt one especially for you, all of them have that authentic Spanish taste and I can guarantee your guests will enjoy seeing the whole dish cooked in front of them.
In all of our Paella dishes we use spices and herbs such as garlic, saffron, cayenne pepper, and paprika which give them all that wonderful Spanish flavour.
Seafood & Chicken Paella
Special paella rice with tomatoes, peppers, onions, spicing and seasoning, peas, chicken, chorizo, prawns, squid, and mussels and finished with King Prawn, mussels in the shell and fresh lemon, served with crusty bread batons.
Meat Paella
Special paella rice with tomatoes, peppers, onions, spicing and seasoning, peas, chicken, chorizo, rabbit, and finished with chicken thighs and fresh lemon, served with crusty bread batons
Vegetarian Paella
Special paella rice with tomatoes, red & green peppers, onions, spices, and seasoning peas, additional sweet peppers, sweetcorn, asparagus
Served with crusty bread batons and fresh lemon
A Paella dish can serve up to 100 portions and we can cater from 40 to 300 covers. Order several.
We are happy to adapt any of the above to suit special requirements.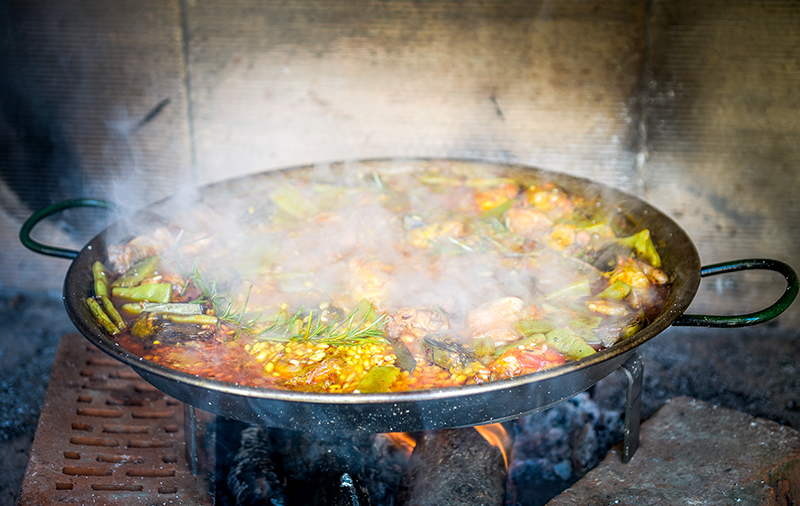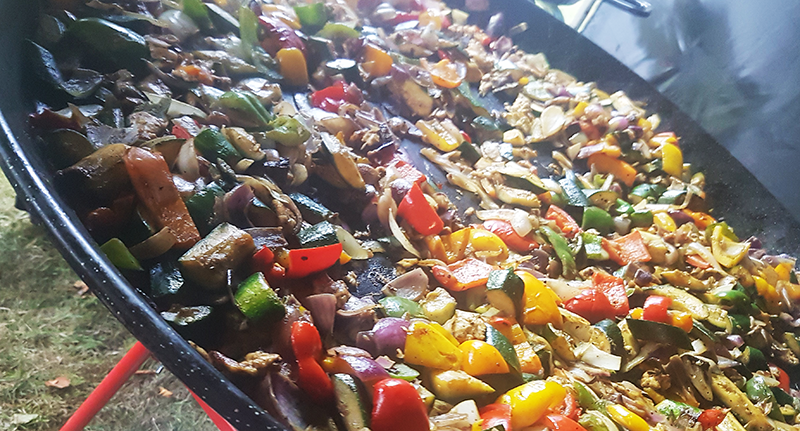 Gourmet Gorillas provided a bbq for our wedding. The food was absolutely delicious and everyone commented how amazing it was! Some COVID hurdles were thrown into the mix but nothing was too much trouble. Massive thanks to Ian, Karen and the team – amazing service! Highly recommend!
Thank you for providing such a professional and friendly service which made it a really special and memorable evening for us. The pancakes were delicious and everyone enjoyed the experience. the rear of the garden was definitely the best position. I hope you managed to get to the Blue Boar after?

I will leave a review on your Facebook page and recommend you to any of our friends who are looking for quality event catering.

Wishing you all the best for a busy and successful summer.
From the comments I've heard everyone had a lovely day, thank you so much for helping provide a memorable day for our children. Many thanks.
Thankyou for the wonderful Paella you cooked and served for us last Sunday, it was quite a spectacle and thoroughly enjoyed by all our guests, we will definitely b booking you again.
COVID had already disrupted our first wedding date, thank you for being so obliging and letting us re book, I know it must have been a pain for you to do the risk assessment to make sure we were all safe and following the guidelines, it was so much appreciated as it took all the pressure off us. The BBQ was amazing despite the circumstances, we will definitely be booking you again as soon as we find an excuse for a party!