We are experienced in catering at all types of weddings from intimate parties of 40 through to much larger events of 200+.  We have options such as "The Whole Hog" which give you the options of having drinks on arrival, canapes and a Hog Roast, or BBQ options, see (link to) Gorilla Deals.
We can also provide the evening event only and here again can cook a Hog Roast, Bacon Sandwiches, Quality Burgers, and Crepes.
Service can include a traditional Hog Roast service or waiting staff serving to tables on boards.
I am happy to talk through all options with you and also to visit the venue with you so we can talk through all options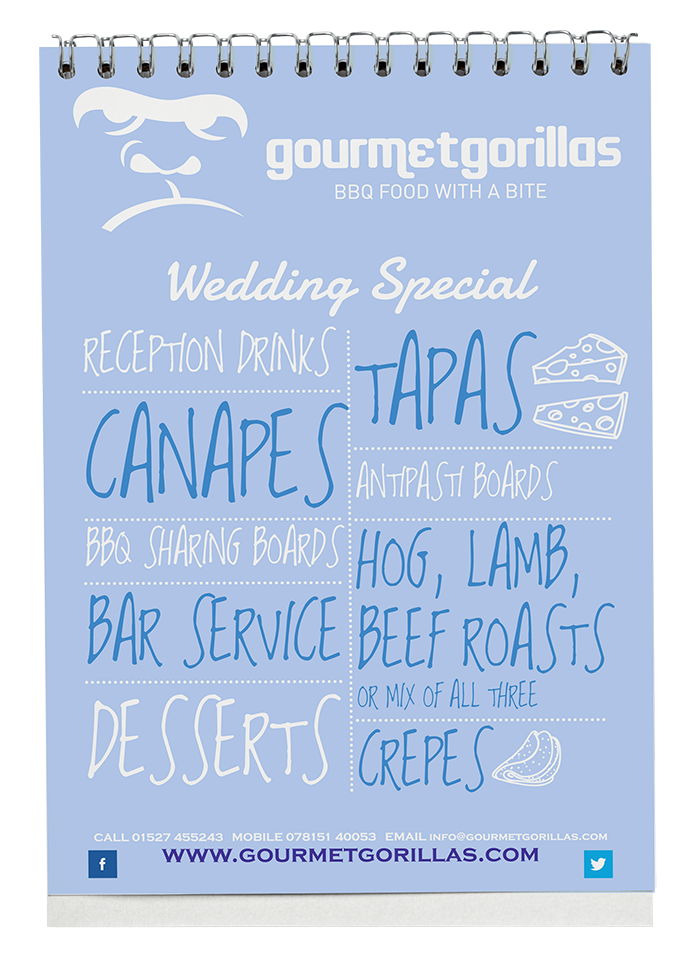 "Fantastic roast for our office opening party, everyone really enjoyed the lamb, thank you, we will definitely book again."

Craig, Astwood Bank
"The hog roast was superb for my wife surprise 40th, my neigbours are going to book you next year."

Brian, Hall Green
"We had your hog roast at Avondale museum it was brilliant, can we book you for next year."

Karen, Bromsgrove
"We booked you for our wedding and you really made the day, canapes and BBQ were wonderful and the way it was all served on boards, thank you ."

Jenny & Andrew
"Thanks for the paellas, it was good to be able to serve our guests, vegetarians and meat eaters alike, the same sort of food, thanks also to your serving staff, we will definitely book again."

Helen & Roger - Solihull
Monkey Man
"Thanks for the BBQ at our care home, the residents really enjoyed it and we will book your paella next year."

Deb - Redditch
"Thank you for all your hard work for our day last week, the BBQ was delicious and so were the bacon sandwiches served in the evening."

Sarah & Paul - Pershore
"Thank you for catering from my retirement party, the burgers and sausages were top quality and my vegetarian friends also enjoyed the options you prepared for them."

Sally - Walsall
"Dingbat, dooda, gorillas!."

Big Fat
Monkey Man