Enjoy Our Delicious Ice Creams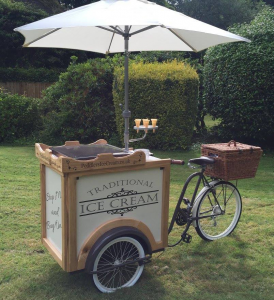 Gourmet Gorillas are now offering a 1950 vintage style Ice cream tricycle service. We offer the famous Ice Cream from Henley Ice creams, made with fresh milk and cream and available in 50 flavours from vanilla, chocolate and strawberry through to Banana Fudge, Lemon Meringue and Christmas Pudding to name but a few. Just choose your selection (up to 6).
This is the perfect Ice Cream trike for weddings, garden parties, fetes, children's parties. Ice cream is the perfect end to a Hog Roast or Barbecue and no matter what the weather all ages are happy with a delicious ice cream served from our vintage trike delivered with a smile and sprinkles!
The traditional cream tricycle is complete with parasol and front wicker basket as well as service by staff who look the part, it makes for great photo opportunities.
We can also adapt the tricycle to a Prosecco tricycle, a great idea for wedding reception drinks, so you can welcome you guests with an ice-cold glass of fizz, or what about a cold gala of Pims? There is nothing like a cold glass of Pims on a Summer day, whatever your requirements Gourmet Gorillas can offer you a trike to suit your occasion.
So, whether you want to savour, Ice Cream, Prosecco or Pims, contact Ian at Gourmet Gorillas and we will provide the experience and service to make your event unique.
Choose from 30 flavours of delicious ice cream
Attendance of one Ice Cream Tricycle (for large weddings, an additional tricycle can be provided)
Attendance of one or more Gourmet Gorilla staff member in traditional costume to serve you and your guests
Quality hand-made real dairy ice cream, locally produced (Henley Ice Cream) with only the best ingredients
Quality waffle cones made locally
Fairy lights can be added for evening receptions if required – looks really nice
Prices
Two scoops of real dairy handmade ice cream served in tall sugar waffle cone or chocolate dipped cone or two scoops in a decorated tub.
Choice of 4 flavours of ice cream
Personalised Menu Board and Gourmet Gorilla Ice Cream Table with selection of sprinkles, toppings and chocolate flakes (self-serve).
Up to 75 covers  – £395.00
Up to 100 covers – £450.00
Up to 150 covers – £550.00
Up to 200 covers –  £645.00*
*We will bring along two tricycles – this will help to serve your guests quickly and reduce serving times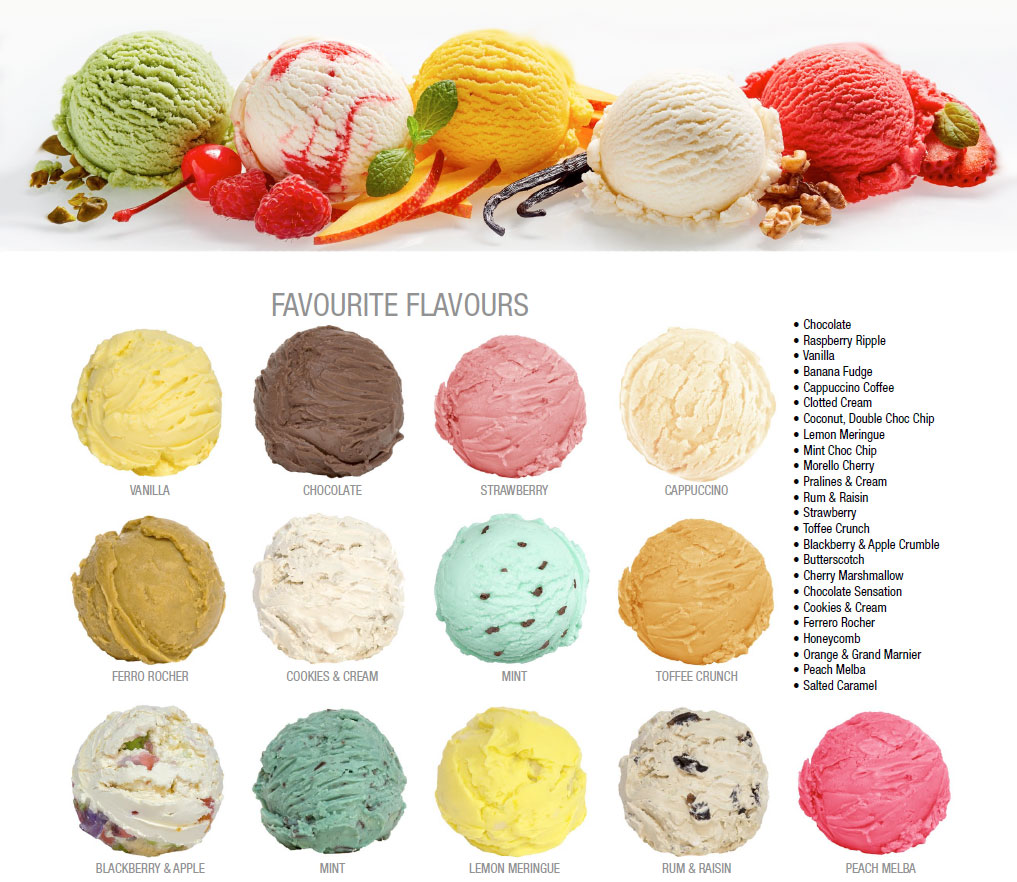 Gourmet Gorillas provided a bbq for our wedding. The food was absolutely delicious and everyone commented how amazing it was! Some COVID hurdles were thrown into the mix but nothing was too much trouble. Massive thanks to Ian, Karen and the team – amazing service! Highly recommend!
Thank you for providing such a professional and friendly service which made it a really special and memorable evening for us. The pancakes were delicious and everyone enjoyed the experience. the rear of the garden was definitely the best position. I hope you managed to get to the Blue Boar after?

I will leave a review on your Facebook page and recommend you to any of our friends who are looking for quality event catering.

Wishing you all the best for a busy and successful summer.
From the comments I've heard everyone had a lovely day, thank you so much for helping provide a memorable day for our children. Many thanks.
Thankyou for the wonderful Paella you cooked and served for us last Sunday, it was quite a spectacle and thoroughly enjoyed by all our guests, we will definitely b booking you again.
COVID had already disrupted our first wedding date, thank you for being so obliging and letting us re book, I know it must have been a pain for you to do the risk assessment to make sure we were all safe and following the guidelines, it was so much appreciated as it took all the pressure off us. The BBQ was amazing despite the circumstances, we will definitely be booking you again as soon as we find an excuse for a party!