Hog Roasts
These are hugely popular and I have never held a hog roast event where it hasn't been really well received. We can cater from 30 to 500 plus guests, so from mini hog roast banquets to major events, what is better than for you and your guests to hear and smell the crackling and juices from the meat that will have been cooking for at least 8 hours?
We only source the best meat and our experience in cooking means you are guaranteed a well cooked and prepared roast with all the accompaniments which will be carved and served by professional staff.
What do you get from Gourmet Gorillas Hog Roast?
Hog that has been cooked for over 8 hours, producing succulent meat
Crispy, crunchy crackling
Stuffing
Apple-sauce
Fresh bread rolls
All disposable plates, serviettes and cutlery
2 hour service
We can also offer a pulled pork option, this means that the pork (shoulder) is cooked even slower and longer, so instead of slices of pork, the meat is pulled apart. We rub this with special spices and serve with barbecue sauce and soft freshly baked bread rolls.
Beef Roasts
As with all Gourmet Gorillas produce, the origin of the beef is assured and my background of being a butcher for over 30 years means I will only source the best possible beef, top quality English Topside.
Gourmet Gorillas can guarantee you professional and experienced staff, to cook and serve – all the accompaniments are included
What do you get from a Gourmet Gorillas Beef Roast?
British Topside of Beef
Mustard and horseradish
Fresh bread rolls
Red onion gravy (optional)
All disposable plates, cutlery and serviettes
2 hour service
We can also offer "firecracker" beef brisket, this is cooked long and slow, and joints can take from around 4 hours to 10 hours depending on the size and is lightly spiced with chilli and can be accompanied with sour cream.
Lamb Roasts
These are increasingly popular. The lamb is all locally sourced and is cooked for 6 to 8 hours and is cooked with lemon, organic garlic and fresh rosemary, the meat is so tender it falls off the bone and is so succulent.
Gourmet Gorillas can guarantee you professional and experienced staffs to cook and serve, all the accompaniments are included.
What do you get from a Gourmet Gorillas lamb Roast?
Falls off the bone. Tender juicy lamb
Mint sauce, cranberry jelly or salsa verde
Fresh bread rolls
All disposable plates, cutlery and serviettes
2 hour service
Staff to cook, carve and serve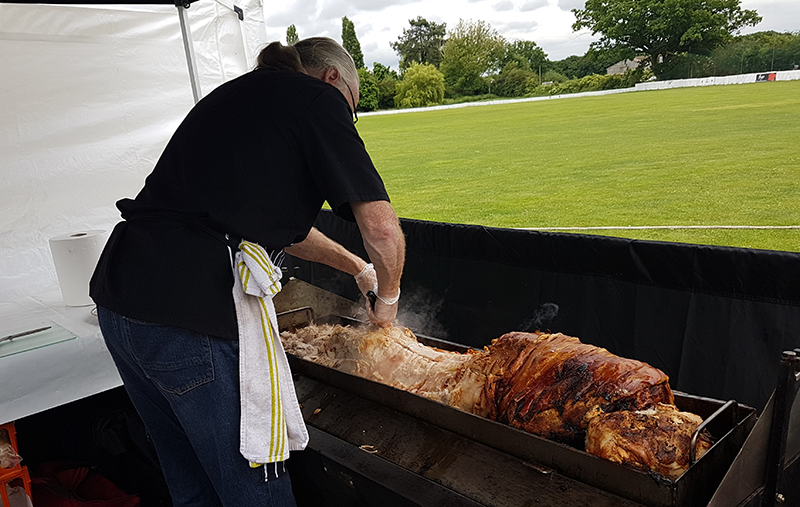 Gourmet Gorillas provided a bbq for our wedding. The food was absolutely delicious and everyone commented how amazing it was! Some COVID hurdles were thrown into the mix but nothing was too much trouble. Massive thanks to Ian, Karen and the team – amazing service! Highly recommend!
Thank you for providing such a professional and friendly service which made it a really special and memorable evening for us. The pancakes were delicious and everyone enjoyed the experience. the rear of the garden was definitely the best position. I hope you managed to get to the Blue Boar after?

I will leave a review on your Facebook page and recommend you to any of our friends who are looking for quality event catering.

Wishing you all the best for a busy and successful summer.
From the comments I've heard everyone had a lovely day, thank you so much for helping provide a memorable day for our children. Many thanks.
Thankyou for the wonderful Paella you cooked and served for us last Sunday, it was quite a spectacle and thoroughly enjoyed by all our guests, we will definitely b booking you again.
COVID had already disrupted our first wedding date, thank you for being so obliging and letting us re book, I know it must have been a pain for you to do the risk assessment to make sure we were all safe and following the guidelines, it was so much appreciated as it took all the pressure off us. The BBQ was amazing despite the circumstances, we will definitely be booking you again as soon as we find an excuse for a party!